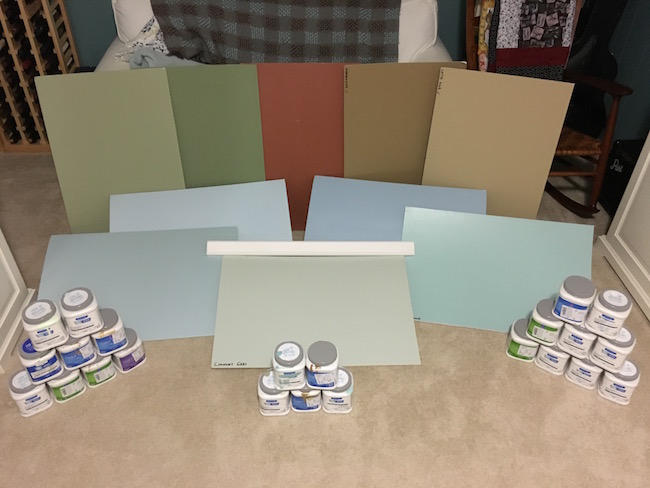 We have decided on white.
Nah, we have picked all the colors!* The painters are a paintin'. You might not be interested in any of my tips and tricks, but I've already roped you in. Ha!
Pro tip 1: For painting a house, car, boat, shed, lean-to, space station, or tee-pee, the little teeny tiny postage stamps of color that you pick up at Sherwin-Williams or the paint isle at Lowe's is only going to help you narrow down the colors that you want to try out. So unless you are building a school for ants, you have to buy samples. And paint boards. Drywall is the best item to paint because it is cheap, doesn't warp, and it's the exact same material you are painting in your house, but it's heavy. So, we bought foam core boards at Wal-Mart. and painted. and painted. and shopped. and looked through the little color book. and painted some more.
Pro tip 2: You have to paint two coats. Because when you triumphantly emerge from your garage with your 9 single coat sample boards, you will look at them and think "Is the paint really that light or is that the board showing through?" "Is that streaky part the light or will the color look like that?" "Did I do two coats of Tupelo Tree over that Southern Colonial Vintage Blush because it looks more like Mélange Green to me." Avoid these questions. You're painting them twice anyway. Might as well do it right the first time.
Pro tip 3: If you are using foam core boards, you need to paint both sides, or the board will cup. Not just a little bit of warp, but your toddler will think it's a sled. It warps so much that you can't actually see the color right because any way you hold it, you are catching the light wrong. Painting both sides flattens your board automagically. And you can get 18 colors on 9 project boards. Just make sure you can see all of your color choices for a specific room at the same time, so don't economize by painting the front and back of a board with 2 different colors you want for the living room. Or you'll be repainting a board. Trust me.
So here's the run down, and I promise you all these names are real. Our main neutral will be Latte (so far, so good). This color will be in our foyer, hallways, living room, and kitchen. The guest room is Comfort Grey, because we want our guests to be comfortable. Our dining room is Colonial Revival Green Stone (there we go) and our music room across from the dining room will be Hopsack with Rockwood Terra Cotta. Going upstairs, Charlie's room will Take Five, as will his bathroom. The Bonus Room is Worn Turquoise, and Sarah's sewing room and laundry room are Mint Condition. The nursery and Jack & Jill bath will be By the Sea, and coming off the silliness the Master Bed will be the same Hopsack from the music room, and we finish in the Master Bath with Sage. All closets are Killim Beige, which is probably the most ridiculous color name because killim rugs are anything but beige. I might rename it Pacific Ocean Tangerine. Maybe it was somebody's first day. Our trim and ceilings are Marshmallow, which is true to its namesake and looks exactly like white unless you hold it up to something white.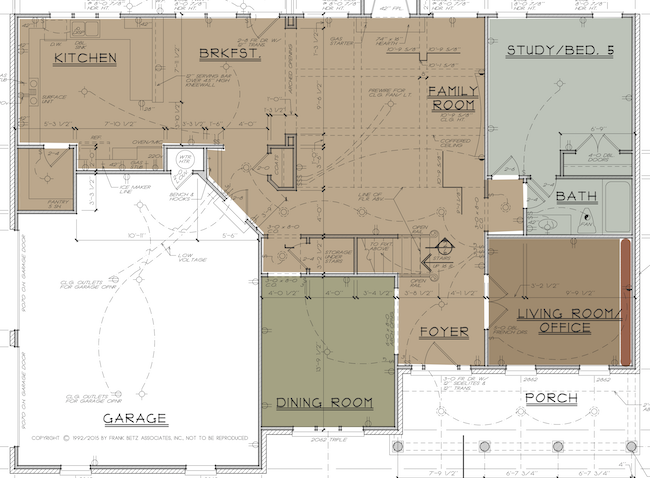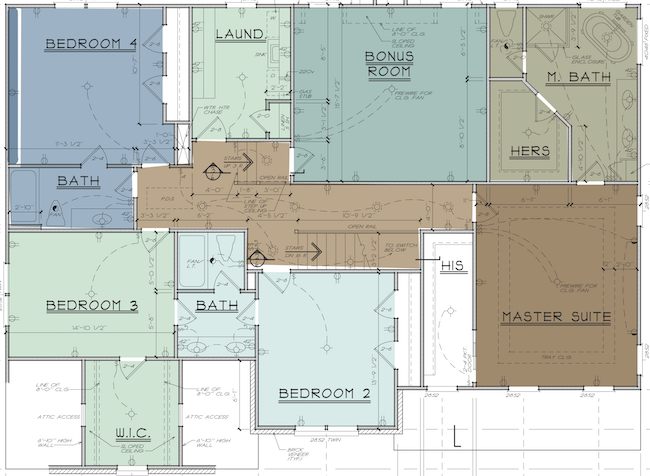 *we may change the bathrooms based on the tile we pick. Which is this weekend. Which is now.
Josh