My house has been hiding some dirty little secrets. The photos below are not for the meek.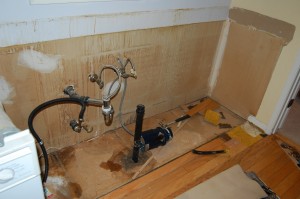 There are years and years and years and years of spills, grossness, grime, a little mold, and some water warping.  I don't really know yet how I am going to fix it. I cannot cut off the offending section and replace the subfloor because nobody makes this thickness anymore. If the damage here is the only damage, I will probably try to grind off the destroyed parts, glaze, and sand the floor level here. Everything is getting a coat of Zinsser. Eeew.
But check out that corner! How awesome is that. 4 Floors, all gross.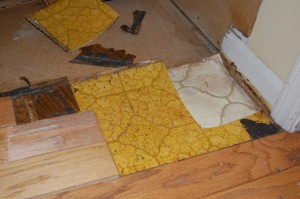 Oh yeah. You've got ugly white lineolum installed with window caulk, then some ugly yellow lineolum installed with Elmer's, then some dark brown faux parquet lineolum that was installed with molasses–and it's still sticky, then my soon-to-be-trash oak floor installed with black roofing tar. Right now, the plan is to use the original white lineolum as the fabric barrier between the subfloor and the new flooring (which prevents squeaking), because it is not going to come off that subfloor without bringing chunks with it. It's going to be fun going to Lowe's and asking for the cheapest, ugliest self-stick lineolum they've ever carried.
Finally, here's a quick question you've probably never asked yourself: How much does your kitchen sink weigh? Don't know? Why would you… it's not like you've ever picked it up, but go ahead and guess. 20 pounds? 30 pounds?… 50 pounds? Mine, was one hundred and three pounds. I'm pretty sure that it was enameled cast iron. Anyway, it looks like my dreams of a temporary sink basin might be fleeting. We'll see how long I can survive without a kitchen sink.