I ordered the floor on Tuesday and Lowe's said it would be in on the 25th. I got a call yesterday that it was in. It's not often that an order comes in two weeks ahead of schedule–especially on a 2 and a half week lead time. I know that Dalton isn't that far from North Atlanta, but still…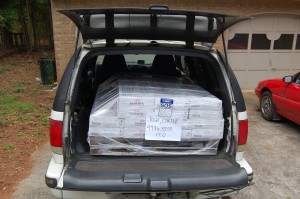 For those that are wondering: Yes, this is the Blazer's first pallet. It was a very proud moment (If I have to explain why, an explanation is not going to help). A special thanks to the Lowe's employees who piloted the forklift and dropped the pallet in my car without a scratch!
So whowuddathunk it would only take 10 minutes to put the flooring in!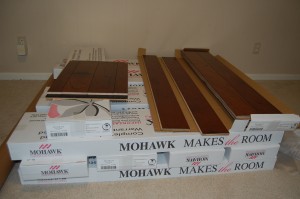 Ok, so it's not exactly installed… Details, details. I couldn't start on it anyway, because the instructions explicitly state that the new hardwood flooring should sit in the house and acclimate for at least 72 hours before you go nailing it down. I am not anticipating that will be a problem.