My garage is the cleanest it's ever been. Hopefully it won't stay that way for long.
Yesterday, I had Garage Floor Coating of Atlanta start the very last step in installing my epoxy flooring. Specifically, they started installing my epoxy flooring. It's been a very long time coming. We rented a Pod sometime in November to start unloading the garage. I kept the junk in my Pod relatively accessible – I had an aisle in it so I could get stuff off the shelves, stack stuff on my workbench, put in and get out Charlie's toys. Well, no longer.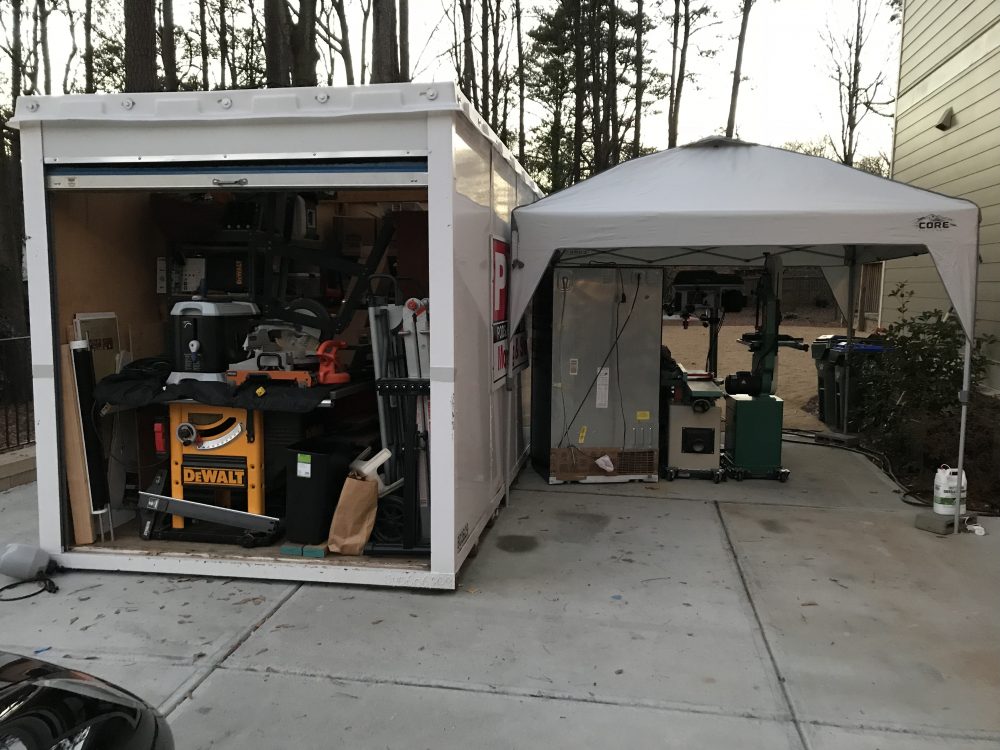 With drizzling rain and temperatures in the mid-30's, it wasn't the most perfect day to spend many of the earliest hours out in the driveway cleaning out the last of the garage, but I did it.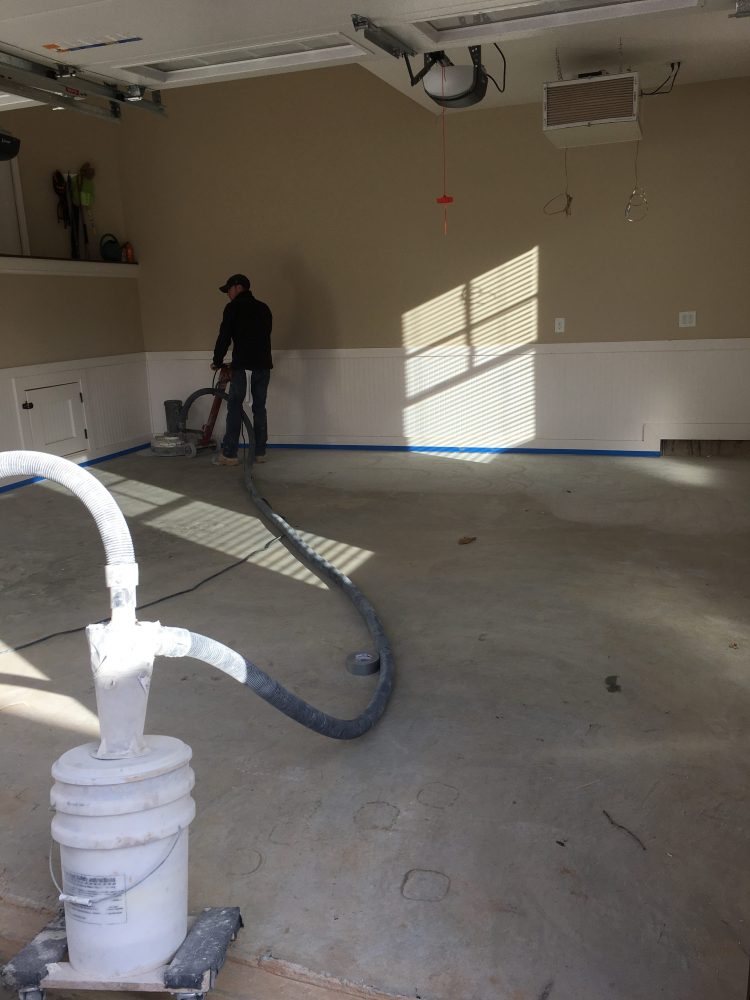 The crew rolled up in my driveway at 9:20 AM and immediately got to work. Two generators, a diamond grinder, vacuums, more vacuums, tape, buckets, and gear. This was not their first rodeo. 8 minutes after the van backed up the driveway, they were cutting concrete. Pretty slick. One of the guys asked me for some water for dust collection, so I brought around my hose, disconnected my plant sprayer nozzle thing, broke up and knocked out the ice chunks, and got the water flowing. It was easy to tell when the hose was cleared because the groundwater was a tropical 40ish degrees. Practically a hot tub.
The grinding is essential for two reasons. It flattens any bumps in the floor and it gives a good surface for the epoxy to adhere. The only way any of these flooring companies guarantee their product is if you grind the concrete first. According to all my friends at the race track, and all the pro's I've contacted about the job, the secret to a floor that won't come up it is floor prep, floor prep, and floor prep. They did good floor prep. And I hope I never ever ever ever have to do this again.
Floor's all prep'd. The next most important ingredient for good epoxy flooring is epoxy. Again, these guys knew what they were doing. They had 2 coats of this stuff down in about 30 minutes. Giant roller, good tape, and lil' spikey shoes so that they didn't paint themselves into a corner.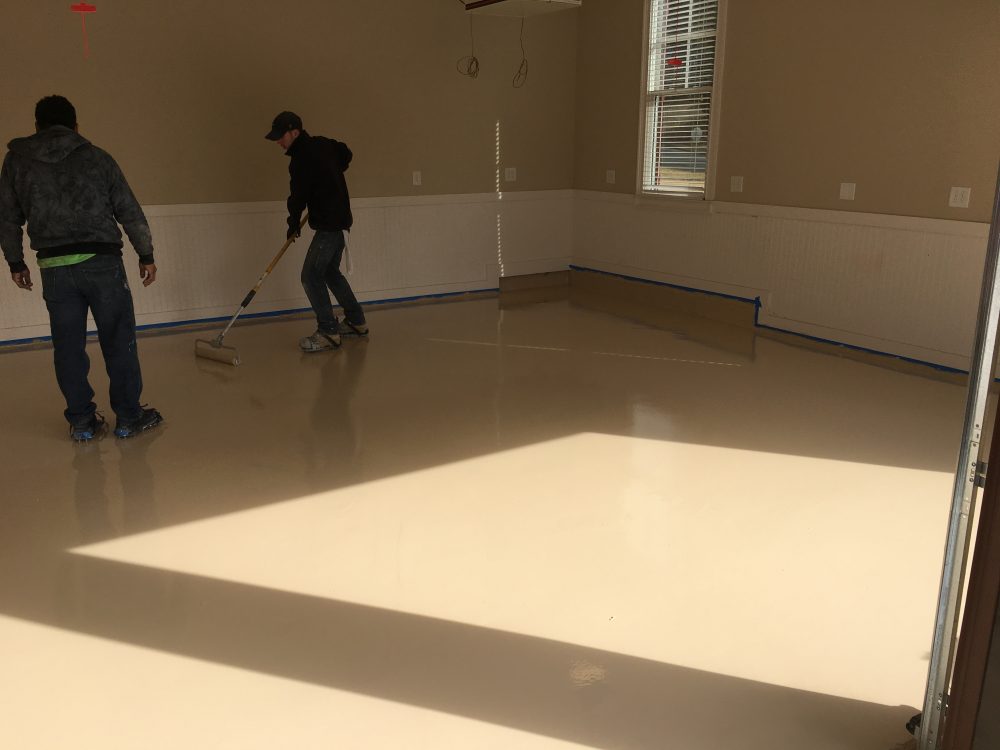 So after the peachy tan epoxy got rolled all over the floor, it was time to flake. Now, during the research that I did on the flake, all these epoxy suppliers like to sell you options of 10% flake, 25% flake, 50%, flake, etc. etc. You know what these guys do? 100% flake to rejection. Sounds neat, even premium. But the reason they do that is because it looks great and it's super easy. They had the entire floor covered in about 5 minutes. They had 6 5-gallon buckets full of flake and just threw it everywhere. They'll reclaim what doesn't stick, so they have minimal product loss too. Again, pros.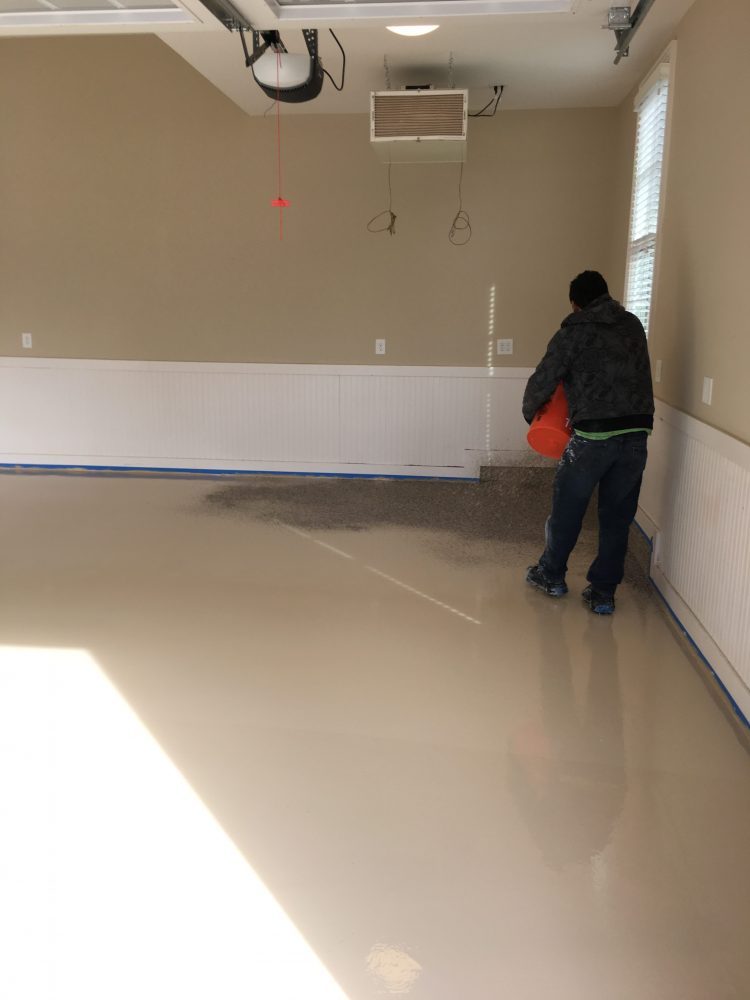 Five minutes later, the floor was completely covered. All "light" spots were re-cast. There's probably a half inch of flake on the floor. Next, they pulled off their tape and left me some really clean lines. I'm impressed.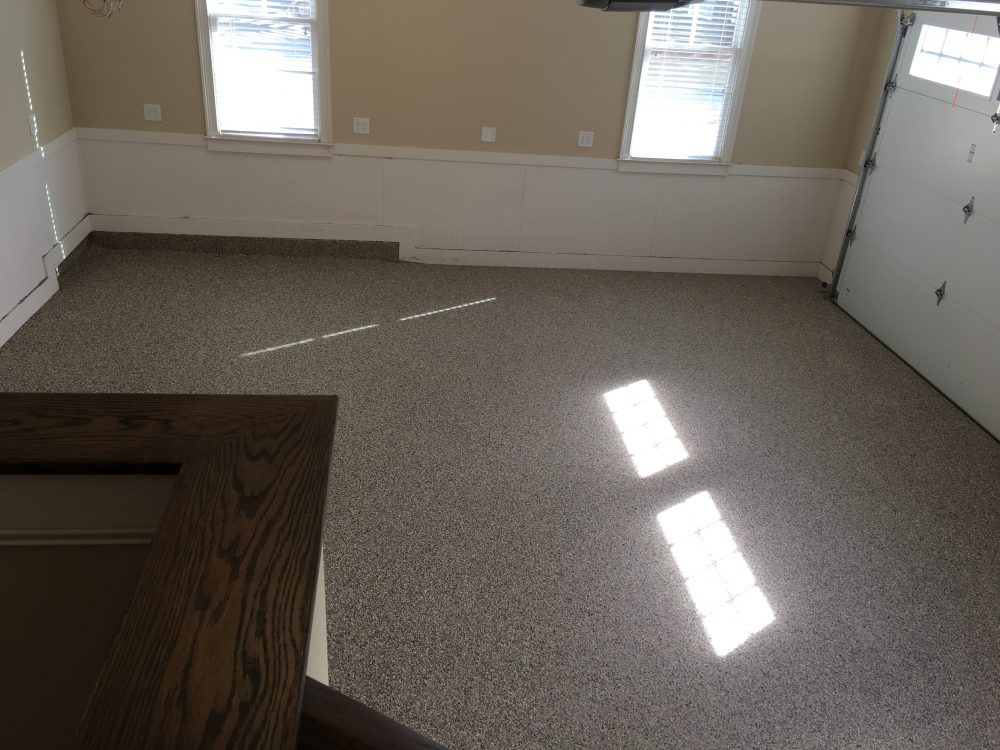 This is what the garage floor looked like when they rolled out of the driveway at 11:28. 2 hours from start to finish. If I haven't impressed how impressed I am yet, know that I am thoroughly impressed.
Another thing that surprised me: I was absolutely convinced that an entire garage-sized floor coated in epoxy would be noxious. Sarah and Charlie were planning to be out of the house, but it turns out that I've used wood stains that were more offensive. I mean, I'm not hanging out in the garage smelling fumes and our door works and such, but I was surprised that it's barely noticeable in the house.
The epoxy is now curing, and at any minute, the crew is going to return to sweep up the flake that didn't stick, polish the flake that did, and lay down a nice rock-hard clear coat. That will have to dry for a good 24-48 hours, probably toward the longer end of that range being that the temperature is stubbornly staying in the high 20's today, but at least it will warm up enough to deliver a nice thunderstorm this evening. I want to put my fridge and my big tools back in the garage beforehand, but that's not going to happen. I hope Lowe's has tarps.
Josh