We have decided on the cabinets!
We picked Kinda Dark And Not Too Red But Totally Still Brown brown, which we think will look good. The island will be Wasabi green, as in the color of Wasabi. The plan is to put a lighter granite on the top of the wood, darker granite on top of the island. Maybe.
Here's a rendering: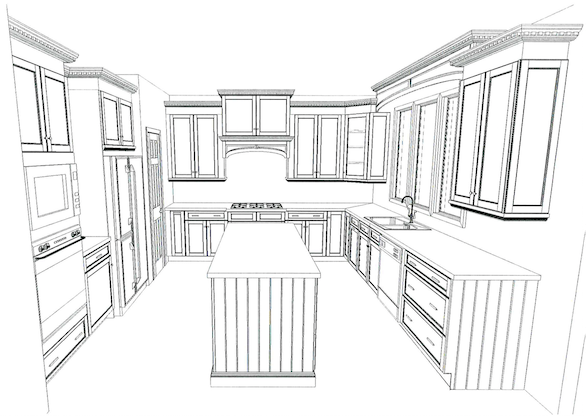 Sarah did the heavy lifting here, and we've added and removed a lot of expensive things. Starting at the left and going around the room, we'll have our in-wall oven and microwave, below we'll have a drawer for casserole dishes and up top we'll have a cabinet for something. Going toward the back of the room I've got my coffee bar, then the fridge which won't actually be a counter depth fridge because they have less space and cost $1000 more than a regular fridge, then my pantry (!). Turning the corner, we'll have a pull out spice rack, then some aesthetically pleasing symmetrically placed combination cabinets with pullouts in the cabinet area. The little drawers under our cooktop are fake (because there's a cooktop there), but there are real drawers under that for something. The corner will have a lazy-susan and over the countertop we'll have a glass door'd cabinet to show off some kitchen stuff, like bowls and teapots. Turn the corner and you've got our trash, sink, and dishwasher, then a bunch of drawers for things we will use whilst dining–table linens, napkins, bibs, things that stab, things that cut, things that scoop. The valance over the window is something Sarah fought our designer to do, but it will totally round out and tie together the room. The dentil molding was a will be our throwback to this old house that will be on the market next quarter. (Call me if you're interested. Best public schools ITP.)
We went over budget.
– Josh