Well, you know it's a party when you bring out a Margarita mixer that measures capacity in cubic feet. With a 30 gallon capacity, you know you can get the whole neighborhood drunk and have enough blackmail material to retire in no time!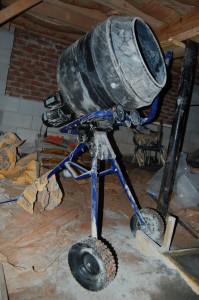 I am very pleased with my mixer. At first, I was cruising Craigslist for a gas-powered, mega capacity, tow-behind model, but it was very convenient to be able to run this thing under the house. Plus, it's really not that loud, even when tumbling 160 pounds of… margarita mix. What's better is that I bought the floor model, and Lowes gave me 10% off and it came completely assembled! Although I did hear from 5 employees "Wow! You're buying that thing? I've never seen anybody buy one of those." Made me feel good, you know, like the whole world knows a secret that you'll find out when it's too late. But the real reason no one bought one before is that the rest of Chamblee is just too lame to need a 4 cubic foot margarita mixer. Yep, that must be it.
So if you're reading this now, that means that you're too sober. Come on over and we'll fire this thing up. I'm always ready to party.